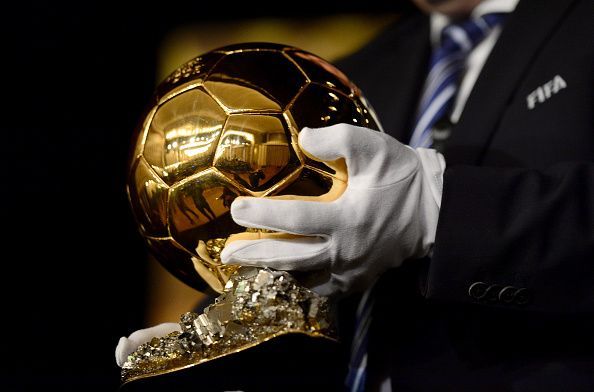 As much as fans would like to say that football is a team game, the fight for the Ballon d'Or will always see a difference in opinion. The best players in the world fight it out every year to become the best of the elite and there is no individual award in football that is coveted by players more than that glittering accolade.
Of course, the past decade has seen it been shared only by two players – Cristiano Ronaldo and Lionel Messi. However, this is a World Cup year and that generally tends to see votes swing one way.
So which players are in with a shout of claiming the most prestigious award in football?
Note: Stats updated as of 1 July 2018.
#10 Diego Godin (Uruguay) 🢁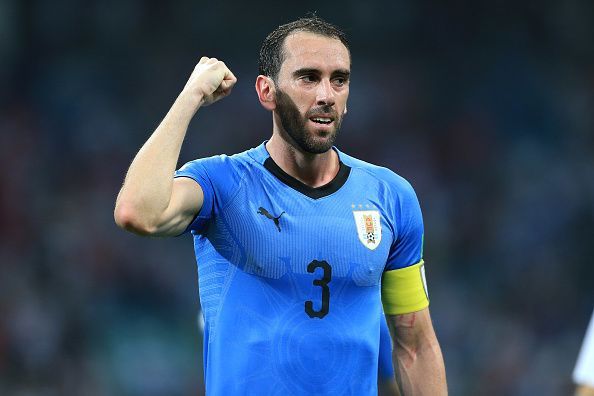 Yes, defenders rarely win the Ballon d'Or. You have to go back to 2006 to find the last defender to win the award.
Who was it then? None other than Italy skipper Fabio Cannavaro who led the Azzurrito an unlikely World Cup win just when the Calciopoli match-fixing scandal had broken out in Italian football.
Just like Cannavaro, Godin has been a rock at the back for Uruguay. The skipper for La Celeste has already cemented his place as one of Europe's best defenders after Atletico Madrid were crowned the best defensive side in Europe's top five leagues, eventually winning the Europa League as well.
However, his leadership saw Uruguay keep a clean sheet for three-and-a-half games at the World Cup which was part of a run that stretched back to November 2017. It helped them qualify for the quarter-finals of the competition.
#9 Edinson Cavani (Uruguay) 🢁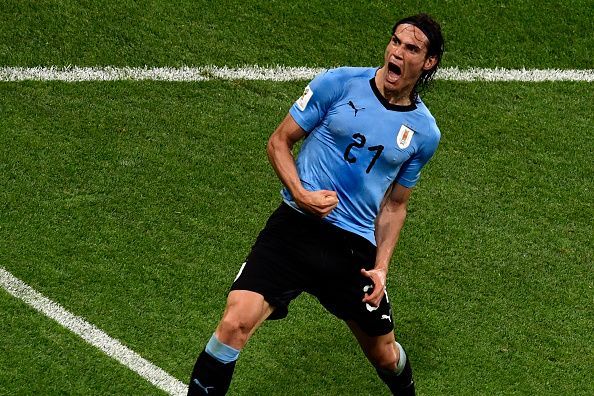 Another Uruguayan player who has cracked the top 10 is Edinson Cavani. Unlike Godin, he plays at the other end of the pitch and his goals were instrumental in seeing Uruguay qualify for the World Cup.
That's not all. Cavani was the only South American player to score 10 goals in the CONMEBOL qualifiers. Nobody else hit double digits.
After scoring 40 goals in all competitions for Paris Saint-Germain, Cavani led Uruguay's charge at the World Cup and he has so far scored thrice in four games.
The brace against Portugal will be the highlight of his season so far as the two goals saw Uruguay progress from the Round of 16 to the quarter-finals at the expense of Cristiano Ronaldo and co.
#8 Kevin De Bruyne (Belgium) 🢀 🢂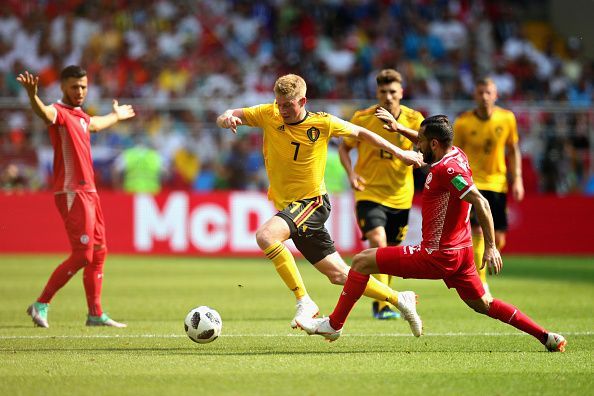 There was no player more important to Manchester City's Premier League title triumph than Kevin De Bruyne. Pep Guardiola did not need a no.10 with De Bruyne operating as a no.8 with David Silva and it worked to perfection.
100 points (a new record in England) is a testament to that. And De Bruyne has only carried that form into the World Cup. However, he hasn't been seriously tested yet. He has only played twice – against Panama and Tunisia.
Nevertheless, he created one of the chances of the tournament with a chipped assist for Romelu Lukaku and his control in midfield hasn't wavered one bit. But the lack of quality opponents has seen his ranking stay the same. For now.
#7 Antoine Griezmann (France) 🡻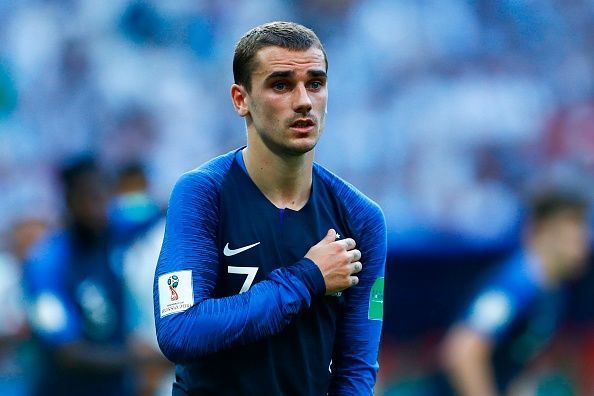 Last month's rankings saw Antoine Griezmann sitting pretty in fourth spot. However, his poor run of form in front of goal has seen him drop a couple of notches in the Power Rankings.
The Atletico Madrid striker was expected to set the tournament alight with France – just like he did in Euro 2016 when he walked away with the Golden Boot with 6 goals (3 more than anyone else).
But he has only managed to score from the penalty spot so far with two goals in four games. The 27-year-old has made the right runs and supported his teammates in attack when France are in the final third.
It's just the finishing touch that has been missing for Griezmann and he will be hoping he can come good in the latter stages of the tournament should France go far.
#6 Mohamed Salah (Egypt) 🡻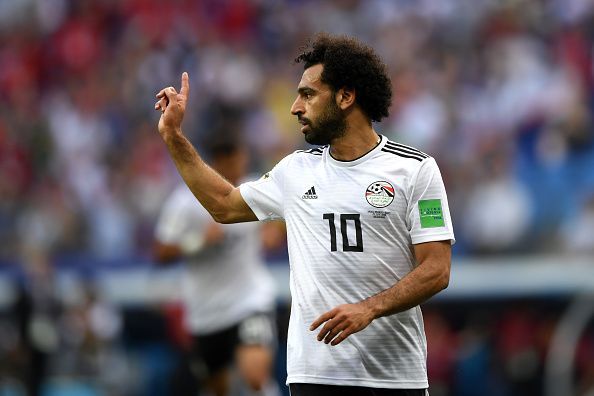 Last month's Power Rankings had seen Mohamed Salah in second place after a stellar season with Liverpool. 'The Egyptian King' had walked away with the treble of individual awards in England for Best Player but his club season had ended in heartbreak in the Champions League.
The Reds finished trophyless as Salah hobbled off with a shoulder injury sustained in a challenge with Sergio Ramos. And that injury eventually saw him miss Egypt's first game at the World Cup.
Although he was fit and scored in the next two games (including a penalty), Egypt sadly finished bottom of their group in their first appearance at the quadrennial competition since 1990.
Liverpool will be hoping he shrugs off the injury prior to the start of the 2018/19 season considering the heavy investment they have made to strengthen the squad.
#5 Luka Modric (Croatia) 🡹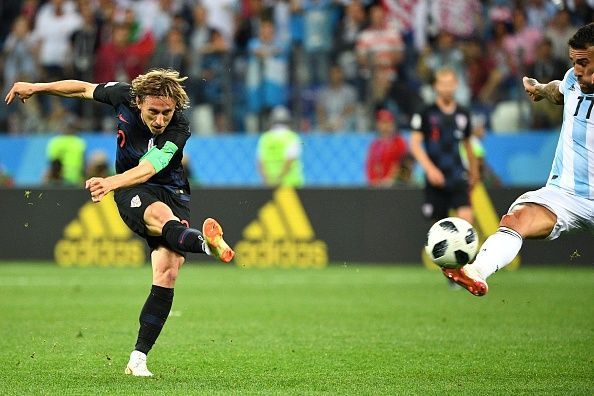 In every major international tournament – be it the Euros or the World Cup – Croatia have always been the 'dark horses'. A tough side that has the potential to get to the knockout stages before falling to the powerhouses.
However, this time, Croatia are a team that everyone wants to avoid in the knockout stages. They are one of three teams to win all their group stage matches and one of the main reasons has been Luka Modric.
Real Madrid's midfield is devoid of dynamism and creativity when Modric is absent and it is the same case with Croatia as well. Wearing the captain's armband, the 32-year-old scored a penalty against Nigeria and a long-range stunner against Argentina to see them top the group.
Can they top that glorious 1998 Croatia squad that finished third? They will have to reach the final to do so.
#4 Harry Kane (England) 🡹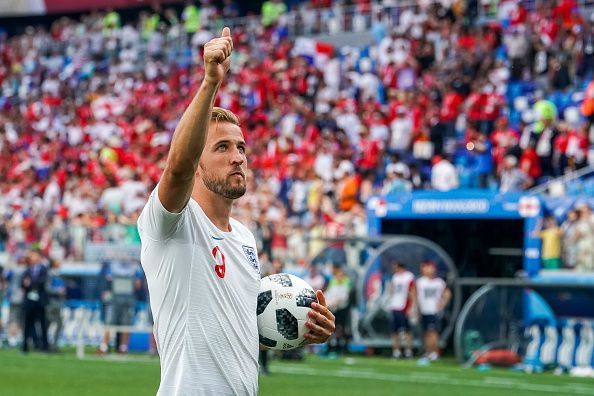 If you ever had to choose someone to score a penalty to save your life, choose Harry Kane. While players such as Lionel Messi and Cristiano Ronaldo have missed penalties at the World Cup, Kane has been in devastating form from the spot.
England won two penalties against Panama and his shots threatened to tear the net at the top corner. That is how impressive his spot kicks were.
A brace against Tunisia – where he was at the right place at the right time – and a hat-trick against Panama saw him jump up to top spot in the World Cup Golden Boot race.
After scoring 41 goals for Tottenham Hotspur this season, England's captain is now on a mission to "bring the cup home".
#3 Kylian Mbappe (France) 🡹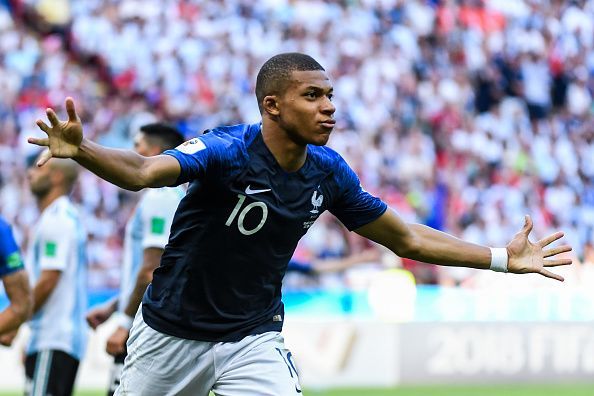 When Kylian Mbappe was announced as one of the nominees for the Ballon d'Or in 2017, it was well deserved. Here was a kid who had barely turned 18 that was already in the big leagues alongside illustrious names.
Of course, he never stood a chance then but now, aged 19, he has already made people sit up and notice just how important he can be in the coming years.
The French forward is one of the youngest players at the World Cup and he became only the second teenager to score a brace in a World Cup encounter.
Who was the first? It was accomplished 60 years ago by this Brazilian kid called Pele.
France looked a bit lost in the group stages. But with Mbappe on the field, they had direction and purpose to their attacks. His explosive pace and athleticism have already seen people draw parallels with Thierry Henry.
21 goals in his debut season with PSG has left this kid hungry for more and it's frightening what he could achieve once he really hits his peak. Once Ronaldo and Messi are long gone, he and Neymar could really fight it out for top honours.
#2 Lionel Messi (Argentina) 🡹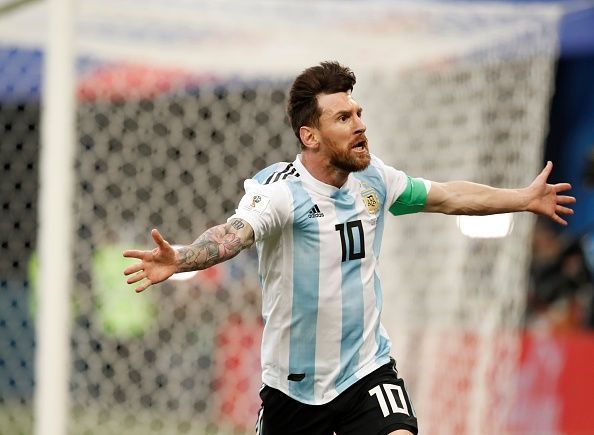 Last month, Messi was ranked at no.2 in the Power Rankings. However, Salah's fall down the ladder has seen Messi move up despite not having to do much. His performances have only staved off the chasing pack for now.
Argentina were never going to win the World Cup – that much was known as soon as the squad was announced. It was too top-heavy and they were poor at the back. The draw with Iceland and the humiliating loss to Croatia proved that much.
However, Messi took it upon himself to lead La Albiceleste to the Round of 16 with a goal to remember against Nigeria. Desperately needing a win, the captain led from the front both on and off the pitch (where he reportedly told Jorge Sampaoli who to pick in the starting lineup).
But the curse of failing to score in the knockout stages continued for Messi in his fourth World Cup. The Barcelona man has failed to score in 8 knockout matches now since 2006.
Although he did manage two assists in the tournament (including the one to reduce the deficit against France and put them under pressure), it wasn't enough to carry this unbalanced squad any further.
Nevertheless, it is the 45 goals for Barcelona and the European Golden Shoe that helped the Catalan club win La Liga that has kept him in the hunt for now.
#1 Cristiano Ronaldo (Portugal) 🢀 🢂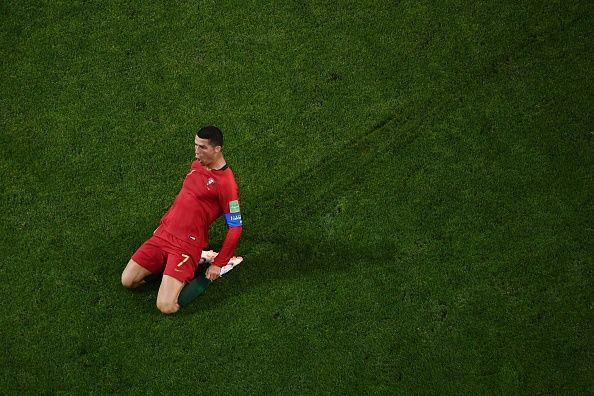 If things go according to plan for Cristiano Ronaldo, he could overtake Lionel Messi and win his sixth Ballon d'Or – a new record. There was a time when Messi was leading 4-1. It could now become 6-5 in Ronaldo's favour.
The Champions League title – Real Madrid's third in three years (a three-peat) – and finishing top goalscorer in the competition yet again with 15 goals (5 more than anyone else) has seen him soar in the Power Rankings.
And Portugal's skipper brought that same form to the World Cup and delighted fans around the world with a hat-trick against Iberian rivals Spain. A penalty, a goal from open play, and a superb free-kick late in the game saw Portugal draw 3-3 with the 2010 champions.
Ronaldo also scored his fourth goal of the tournament in the second group stage game to take his tally to four goals. He had previously scored just three goals in three World Cups prior to this (one goal each in 2006, 2010, and 2014).
Although he couldn't help Portugal qualify for the quarter-finals, there is nobody else at the moment who can come close to dethroning him from the top of the Power Rankings as he finishes the season with 54 goals for Real Madrid and Portugal.
Even if this is his last World Cup, he will still go down in history as one of the greatest goalscorers of all time!